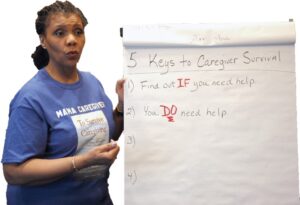 November is National Family Caregiver Month, celebrating the intrepid women and men who risk their health, finances, and relationships to give excellent eldercare. Research estimates the dollar value of caregivers' efforts at $470 billion. Even so, they are unpaid and many put in a "second shift" before and/or after work. They are likely to live in a household with dependent children as they care for parents, grandparents, in-laws, and other older adults either in the same house, around the corner, or around the country. This makes the 21st Century Caregiver Sandwich a multi-decker club! Caregivers also struggle to plan for their own retirement while spending thousands of dollars on eldercare every year. Because of challenges at home and in the workplace, many decide to leave jobs or retire early, risking economic insecurity in their senior years. Caregivers also suffer guilt, fatigue, and more physical illness than non-caregivers of the same age.
In 1972, Helen Reddy co-wrote and recorded the song "I AM WOMAN," which became the national anthem for the Women's Movement. I posted new lyrics in a 2015 blog post called the Caregiver's National Anthem. I have updated it for 21st Century caregivers.
I'm a caregiver, hear me roar
Though public policy ignores
That the value of my work
Dwarfs government spending.
Sandwiched in a 3-tier club
From Grandma down to Scouts of Cub,
And I'm struggling just to get to work on time.
CHORUS
Oh yes, I am tired,
But I'm also feeling guilty.
Don't they realize
This is NOT how it should be?
Because I have to,
I'm doing everything.
Don't feel strong,
Don't feel invincible.                                                                                                                                                                                I'm a caregiver.
I'm a caregiver and feel done in                                                                                                                                                            I pay for food and medicine,
And my workday bleeds into a "second shift."
Now, Mom can't stay alone,
And I quit so I'll be at home,
But my pension's not enough to care for me.
CHORUS
Oh yes, I am tired,
But I feel so very guilty.
Don't they realize
This is NOT how it should be?
Because I have to,
I'm doing everything.
Might be strong,
But not invincible
I'm a caregiver.
Vote for tax credits for me,
And workplace flexibility,
And respite care so I can get to see my doctor,
Protect my health, and hope, and funds.
I know a group's stronger than one.
We will work to make the nation understand.
CHORUS
Oh yes, we are tired,
But no longer feeling guilty.
We will organize and say how it should be.
Yes! We have to, and we can do anything!
We are strong. (Strong!)
We are invincible. (Invincible!)
We are caregivers!
Yes, we are caregivers!
We are invincible!
You are not alone. Many Americans struggle with caregiving responsibilities, and their numbers grow every day. You deserve support, and you have wisdom to share with people who are farther back on the caregiving journey you've already navigated. Hands-on caregivers are also the best advocates for creating realistic public policy. You know what you need, but nothing will change if you don't get involved. Amplify your voice! Work with the Caregiver Action Network, AARP, The Alzheimer's Association, and other organizations that care about caregivers. You are invincible!
Look for Dr. Cheryl's two new caregiver books: TO SURVIVE CAREGIVING: A Daughter's Experience, A Doctor's Advice, 2nd edition, and The Doctor is IN: Answering Your Questions About How to Survive Caregiving. Coming soon to Amazon.com